Wednesday afternoon, after we returned from our visit to Thad Mosley's show at the Mattress Factory, there was little to be heard from the students in the sculpture class – everyone was inspired in their own way. Chips were flying but there wasn't very much conversation – everyone was too busy to talk. I had had the privilege of visiting Thad's studio for a brief time last year, but I hadn't had enough time to absorb much from the experience. And pictures in a book do no justice to Thad's work. This year, at the Mattress Factory, I was fascinated with the way that Thad had combined manageable pieces of wood into a large sculpture – something that I've always been interested in but had no idea of how to accomplish. Large pieces of wood, after all, are heavy and not very maneuverable. If you look in books on sculpture, you either see small pieces or very large pieces and the large pieces require cranes of some sort to move. So Thad's approach really appealed to me. I set to work, removing the decayed wood from three pieces of wood that I had brought with me from Floyd and four pieces that I had gotten at Touchstone.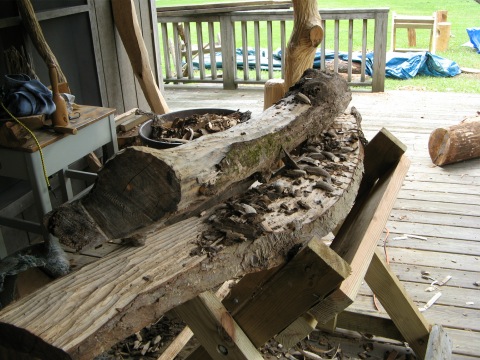 In this photo, you see the unfinished piece (featured in an earlier post) in the left background and two elements in the center background, one short and one tall. In the cradle are two more pieces – a curved plank and the partially cleaned log that is lying on top of it.
In this shot, there is yet another element, the large piece of black walnut leaning against the railing. It is about 4″ thick and I hope to find someone to cut it in half, longitudinally, so that I have two pieces, each about 2″ thick.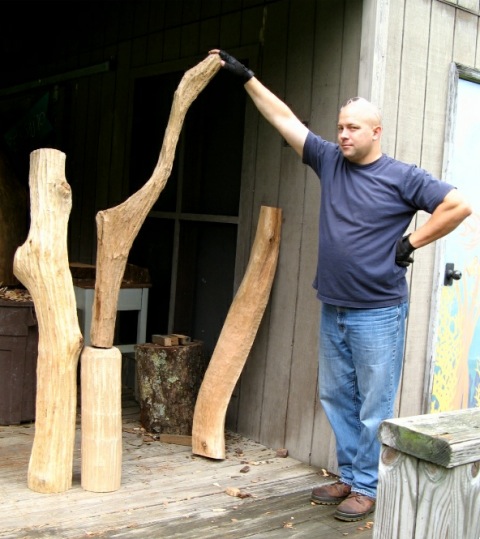 Pete, ever helpful, is holding a piece of black walnut in place atop a short section of either beech or maple so that I can see how the pieces might relate to each other. The unfinished piece is lying against the wall in the background. I'm thinking that I might lay the pieces on the ground next year to see how they relate to each other and to make a decision about how to proceed. As you can see, I don't have a pre-determined sculpture in mind – the pieces and I are involved in a dialogue. There are many possibilities and each one opens up yet other possibilities. I find this process of discovery to be very rewarding.
Brad, the campus manager of Touchstone, graciously allowed me to store the elements of my future sculpture in a building that isn't often used so that they will be safe until I return next year. I didn't bring home a finished sculpture this year, at least not a big one. But I did bring home a "quick study", which is the subject of the next post.