Tomorrow is long past – sorry about that! I've been trying to create a post about Thad Mosley, but I find it hard to do so. How is it possible, in a mere blog post, to capture the essence of such a vital, fascinating artist as Thad? Perhaps the best introduction to his work might be by reading his biography, by David Lewis, that is available for purchase. It is probably also available through inter-library loan. Thad was born in 1926 and, through dogged persistence and a great deal of hard work, has created a remarkable body of work influenced by Constantin Brancusi and Isamu Noguchi. Though he graduated with a degree in English and Journalism (and worked for the Postal Service for 40 years), he never received any formal training in art. No matter – his work is stunning and pictures of it do no justice at all.
This picture, of Thad's show at the Mattress Factory, was taken by Pete Sternisha, one of the students at the Touchstone class that I recently attended: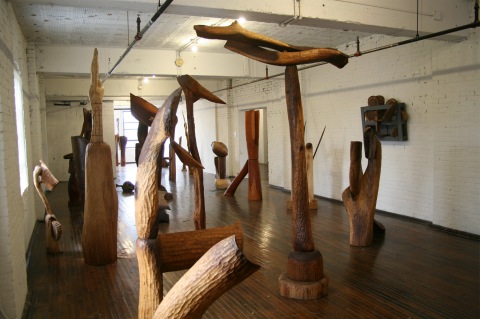 Thad mostly carves wood that he gets from city forestry crews or finds on the side of streets from trees cut down by property owners, though he sometimes buys wood from people who have logs that particularly intrigue him. All of Thad's works are composed of pieces that are fitted together with either metal pins or rough joinery. His work is about volume in space, not joinery. They are direct, powerful, emotional statements that are refreshingly honest. Unfortunately for those who would like to see his creations, much of his work is privately owned and many more pieces are in Thad's possession – he is not driven by the need for recognition, though he certainly does not shy away from it. His work is in several major museums and he has several pieces in public locations around Pittsburgh. So, if a show of Thad's work opens, by all means do whatever you need to do to attend!
Here are some photographs of pieces in the Mattress Factory show that I took: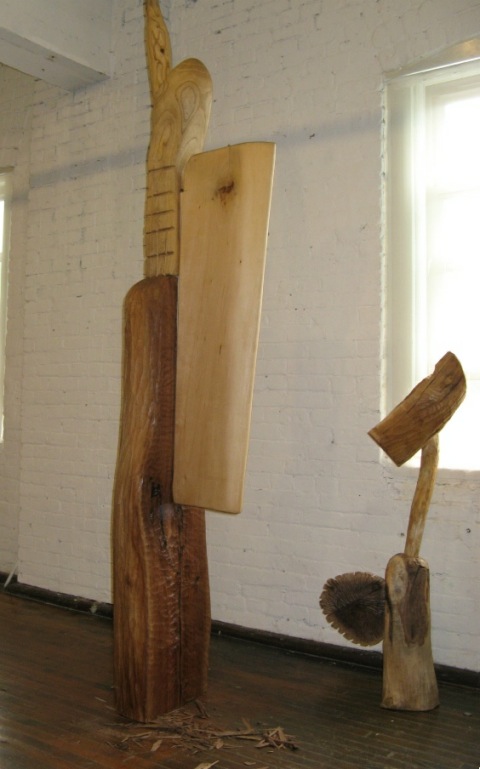 This photo is of two separate pieces. In the one on the left, I find the contrast between the chiseled walnut and the smooth light-colored wood to be very appealing. The juxtaposition of the roughly finished piece at the top left, which doesn't "fit" with the other two pieces, adds a lot of visual interest. The smaller piece on the right, composed of four separate sections of wood, gives you an idea of how Thad works. In this piece, he has taken a cross-section of walnut (lower left), fastened it to the semi-worked log on the right and then perched a piece of cherry above those two joined pieces that is connected to the rest of the piece by a roughly worked limb.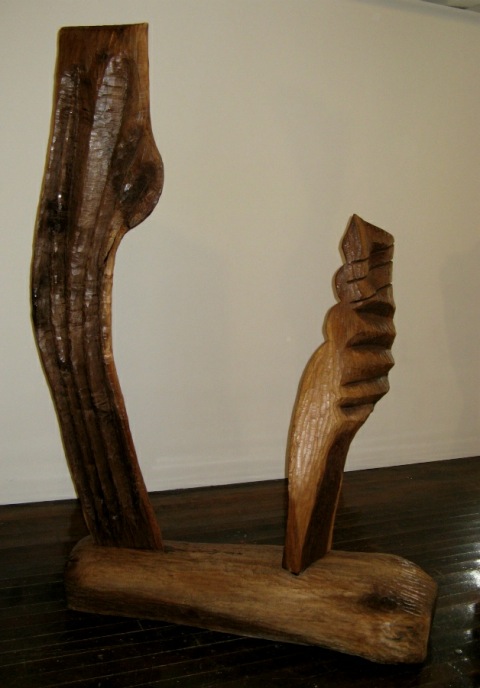 This piece is all black walnut, one of Thad's favorite woods to carve. The picture does it no justice – you need to be able to walk around it and see the changing negative spaces that the piece provides. The contrasting textures of the piece, created by the use of different gouges, adds a great deal of visual interest.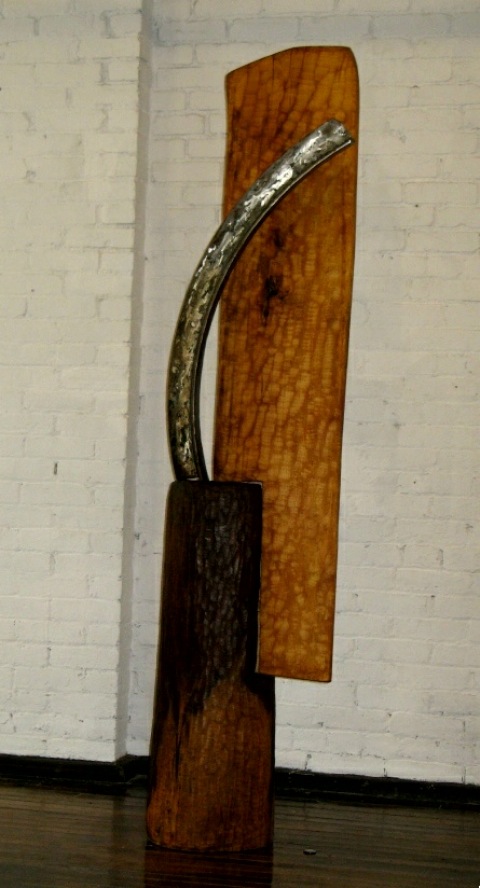 I like just about every piece that Thad has created, but this one is really special. I love the way the curved I-beam, finished with a wire wheel and coated with a clear sealer, contrasts with the walnut on the bottom and the cherry piece that is attached to the walnut.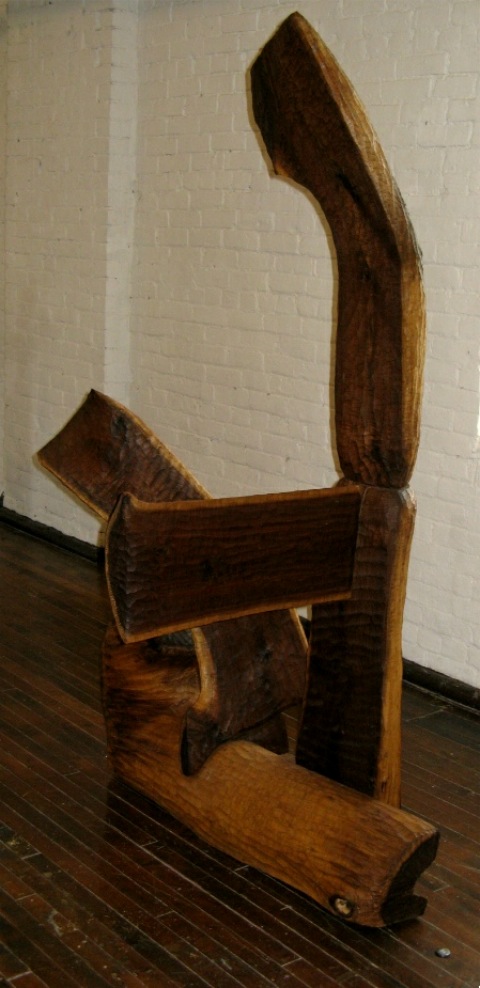 Unfortunately, this shot isn't the best – my flash created a shadow that results in rather blurry edges. But this photo does show how Thad combines smaller, manageable pieces of wood into a large sculpture.
Composed of two sections of black walnut, this piece intrigued me, not only because of the way the top is joined to the bottom, but because of the way the eye is led down from the top, following the horizontal cuts in the log. I returned to this piece many times before having to leave the show.
If you get a chance to see any of Thad's work, don't let the opportunity go to waste!