Touchstone Center for Crafts, near Farmington in the Laurel Highlands about 60 miles southeast of Pittsburgh, PA, was founded in 1972 as the Pioneer Crafts Council. Originally, its focus was to preserve mountain crafts but it has since become a full-fledged crafts school, with classes in painting, ceramics, blacksmithing, glass-blowing, wood sculpture, stone working, and many other disciplines. I learned about the school when I visited Floyd's Jacksonville Center in Floyd, Virginia and almost literally ran into Chris Shackelford, who at the time was the Director of Educational Programs. I admired the sculptures in her office that she had created and she, in turn, told me that she taught a class at Touchstone. After considering the idea for a couple of weeks, I signed up for my first class, ever, at a craft school in the summer of 2007. Armed with a basic set of wood carving chisels from Woodcraft, I arrived, full of energy and enthusiasm. There were three other students in the class, all of them experienced sculptors. I felt way out of my league, but set to work and surprised both myself and the others with my achievement.
The piece is about 4 feet tall and is made of black cherry with a white oak base. It is currently in the house of a friend of mine in Floyd County, as I obviously couldn't take it on the plane with me!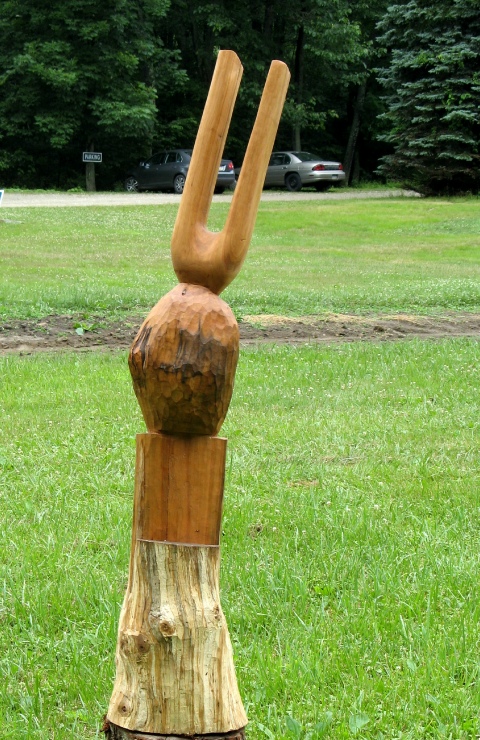 This year, I returned, not as "on fire" as I was last year, but with more ideas. My fellow sculptors from last year were there again and we had a fine time, though the setting was a tad more rustic than the previous year. I made 3 sculptures this year – I was in the groove, so to speak! Great fun!!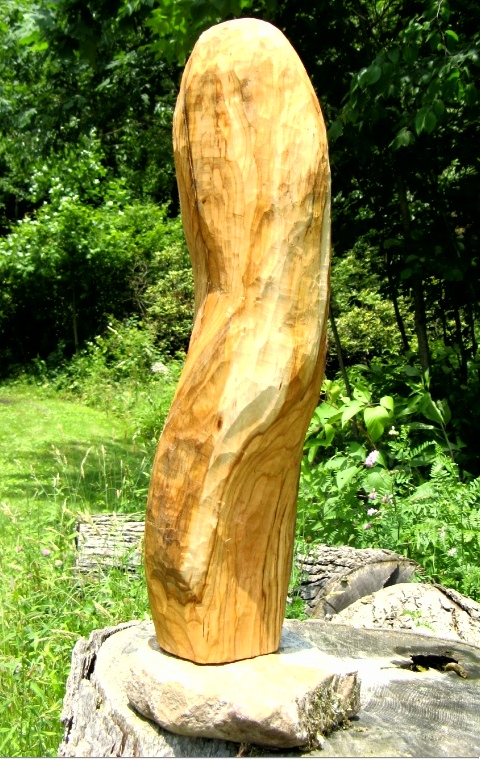 This piece started out as a rotten log that I thought was white pine. It turned out to be black cherry and it has a very interesting decayed spot in the middle, as you can see here: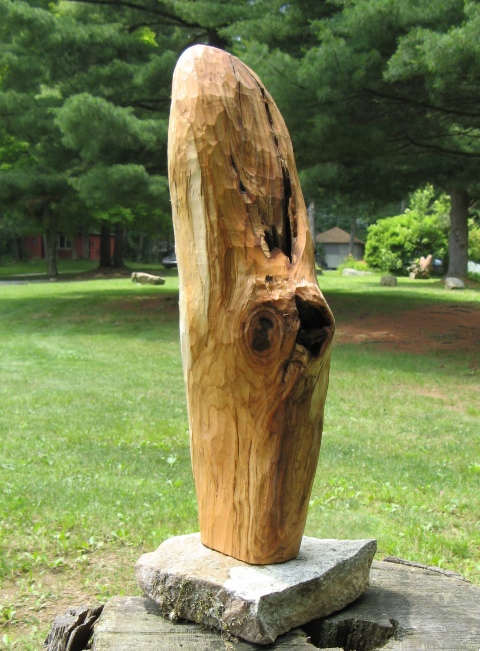 I managed to take this home with me, despite the concerns of the Homeland Security guards at the Pittsburgh airport that it might be filled with plastic explosive. Ah, the times we live it, right??
The next piece was a "quickie" – it took only a bit over a day to complete. I'm fascinated with texture and contrast, so I selected a piece of red oak from the woodpile and removed some in the middle to reveal the beauty of the finished wood. I like the contrast of finish against raw, weathered wood. I gave this piece to a teenager who had a summer job in the kitchen of the Touchstone dining hall. He had taken a blacksmithing class and I had heard, through the grapevine, that he was very taken with this piece. I hope that he is inspired by it and goes on to create his own works of art.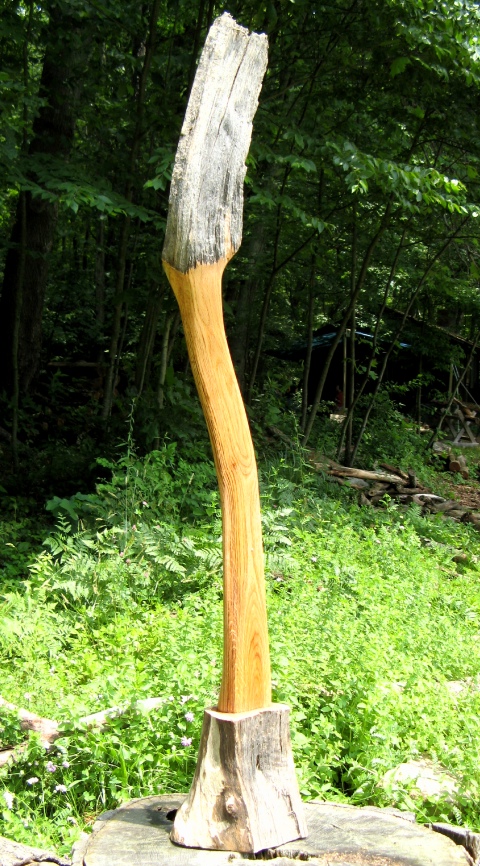 The last piece that I made this past summer is the one that I am most pleased with. It didn't start out that way, though. I found three crooked pieces of wood in the wood pile and figured out how two of them would go together. Those two are the long piece and the short angled piece. But when I put them together, I didn't like the piece at all, so I put it aside and worked on the other pieces. On Thursday, I tackled the piece again and, at the brilliant suggestion of Chris, our instructor, found the way that the third "leg" fit the sculpture. I pegged it with a peg of white pine and was very pleased with how it turned out. It is currently residing at Chris Shackelford's home in Floyd County.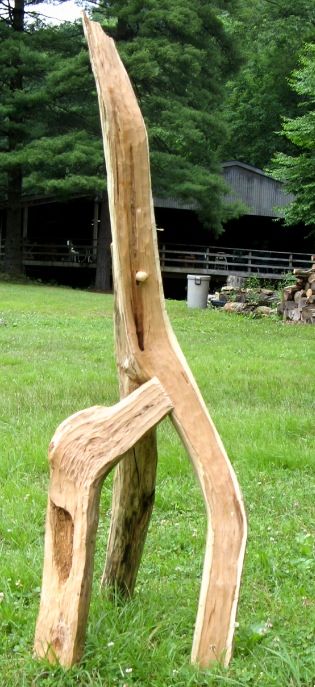 I had a wonderful time and look forward to returning next year. Touchstone is really a special place – I highly recommend it!