Another prolific vine on the property, summer grape, is also a valuable source of wildlife food. From the West Virginia University Extension Service website:
"The ripe grapes are a favorite food of raccoon, rabbit, red squirrel, opossum, foxes, ruffed grouse, wild turkey, cardinal, mockingbird, robin, cedar waxwing, woodpeckers, mourning dove and other songbirds. Old dried grapes are especially valuable in late winter. The dense foliage of "grape tangles" and in tree tops are very valuable for cover and nest sites for many animals and birds."
Before writing this post (see? writing does have its benefits!), I thought that I had a lot of what people were telling me was fox grape, but I see, based on my research for this post, that I actually have a lot of summer grape. This picture came from the Chateau Z website, but I have at least two vines that are almost as big as this one is. I was so busy cutting oriental bittersweet that I didn't take a picture of them, however.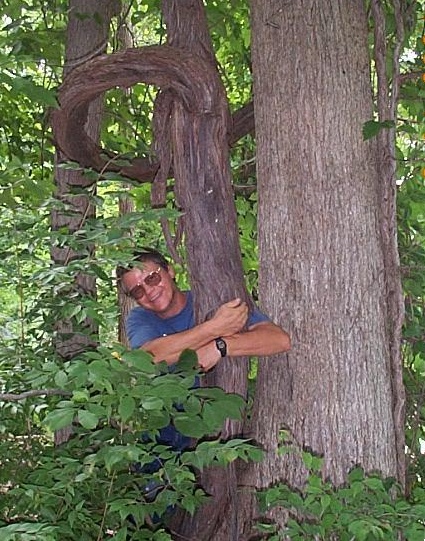 There may be other varieties of grape on my property, but I will have to wait for a environmental management plan to be done, which I hope to have done next Spring by an outfit based in Asheville, Equinox Environmental Consultation & Design. For now, I can offer this picture, which I think is summer grape, but I may be proven wrong.