Touchstone, like most craft schools, holds a weekly auction of student work as a fund-raiser for the school. Every Thursday evening, when classes are in session, there is an auction of student work. Sometimes, the auctions are quite lively and prices soar beyond my reach. Other times, I have been able to afford one or two pieces. This year, since we went to the Mattress Factory on Wednesday, we all got a little behind, in a most pleasant and challenging way. None of us had anything ready for the auction by Thursday morning so we all set to work. I grabbed the cherry burl piece that Pete had pointed out in the firewood pile on the previous Sunday afternoon and set to work. Pete had been seeing birds in every piece of wood all week long and I guess it had an effect on me, too, for I saw a bird in this piece of wood, also. I don't usually work this way (some sculptors speak of "freeing" a creation from the wood they are working with), but I adopted that approach this time.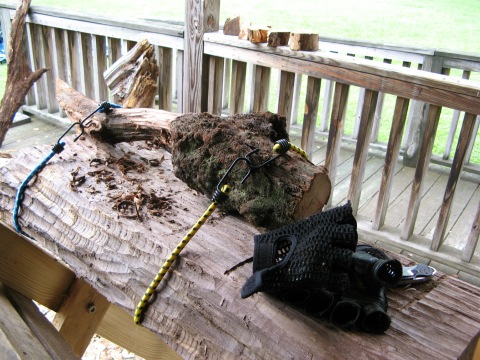 I'm using the slab of black walnut shown in the previous post as a "bench" to work on the bird. I had borrowed John's Japanese saw and cut the branch at an angle and in this photo, I have worked the lower neck area with a small gouge to act as a transition to the smooth upper portion.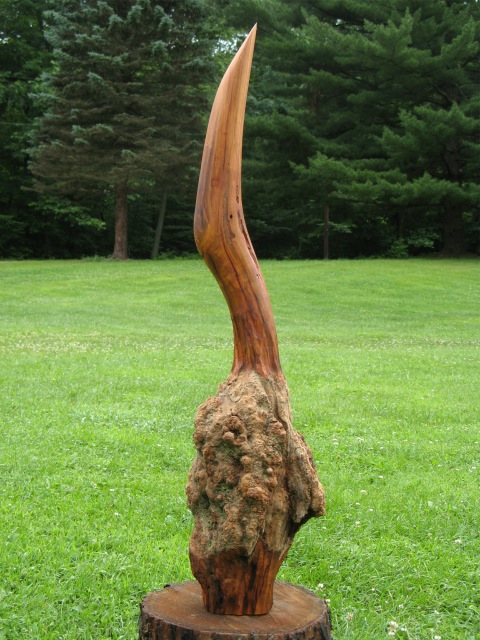 After smoothing the upper portion with a Surform rasp and sandpaper, I removed some wood from the base with a small gouge to set off the "feathers" of the bird – the burl on the cherry. I then oiled the worked surfaces with a mixture of 50% linseed oil and 50% turpentine and I was finished. I set it aside and started thinking about how much I should ask for it as a minimum bid. I started at $45, then went up to $65, and then decided that it was worth $125. Then, because I had obviously fallen in love with it (and because Chris said that I didn't have to have an auction piece), I decided to keep it and take it home with me!
So I went to the auction without a piece and felt guilty the whole time. Friday morning, I assuaged my guilt by making this little gem: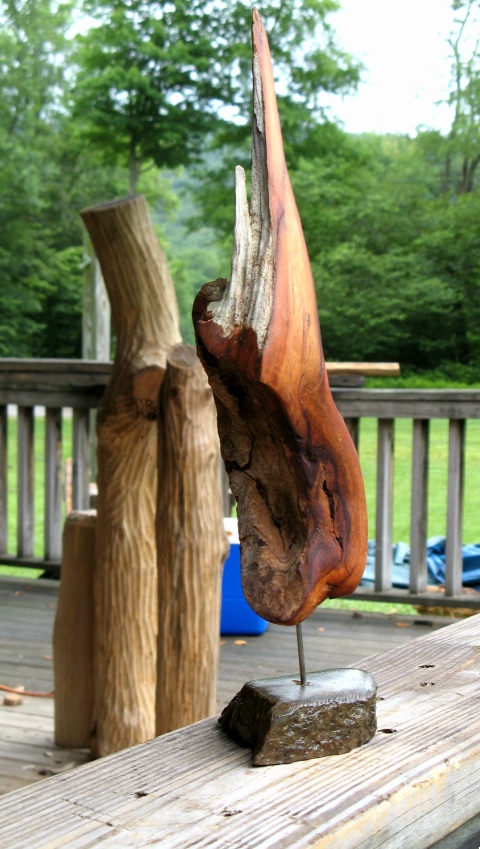 This creation was a small piece (it is about 14″ tall) of well-seasoned cherry that had been a part of the log that Chris Shackelford had been working on. I took it and cleaned up the edges, sanded the exposed surfaces and oiled it with the linseed oil/turpentine mixture that all of us use to finish our pieces. I love the contrast between the finished and weathered surfaces. Chris gave me a small piece of soapstone to use as a base and I learned a tiny bit about soapstone sculpting in the process. Chris sculpts soapstone as well as wood and I'd like to try my hand at soapstone sculpting, but I never seem to have the time to do so! I heated the base with a torch and applied beeswax to bring out the beauty of the stone and then used an epoxy glue to secure the short rod that elevates the wood above the base. Later that day, I took it to the office and gave it to Touchstone, explaining how I had not had a piece ready for the auction. I hope it found a good home in the auction the following week!
In the background, you see three of the elements for the sculpture I am going to create next year standing close together. I'm really looking forward to my next visit to Touchstone! In the meantime, I'm going to build a cradle, buy some more chisels, and see what I can create here at home.