I left Floyd on the morning of June 28th, heading for Touchstone, after feasting on a huge biscuit from the Blue Ridge Restaurant. They make the best biscuits I've ever eaten! My only complaint about the restaurant is that I think that any restaurant that aspires to serve country "comfort" food should offer corn bread. The corn bread that the Blue Ridge Restaurant serves is pitifully small – a tiny, round, not-even-a-mouthful piece of corn bread. They should offer a big slab of corn bread, fresh from the oven, slathered with farm butter ….. yum!!! Maybe, one day, they will.
I took Route 8 to Christiansburg, where I got on 460 and drove to Hatcher, WV, where I picked up I-77 and then drove north on U.S. 19. Somewhere before Fayetteville, I stopped at a welcome center, where I picked up a brochure about the New River Gorge Bridge. Since I had not done any research on West Virginia before driving through, I was surprised when, not too much further on, I came to the New River Gorge Bridge! I almost kept on driving, but I said, "I really should stop here … I might not see this again." So I stopped and parked in the lot. I walked by a Christian tour bus (what is a Christian tour bus??) and descended 200 feet on the boardwalk to the observation deck where I saw ….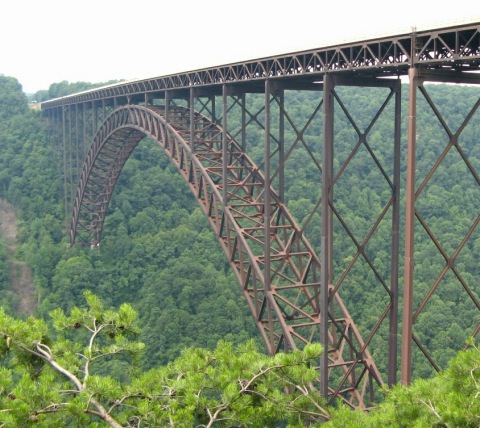 My goodness!! Way down in the valley, far below, I saw the bridge that this one replaced. The bridge was built in 1977 and there is an annual Bridge Day, where crazy people jump off the bridge for fun! Yeah, I said crazy and I meant it. No way I'd do something like that! I had enough of that just jumping off a diving board into a pool 20′ below at the Navy Aviation Electrician's Mate "A" school in Jacksonville, FL in 1968. 876 feet? Nope. No way, Jose.
After leaving the New River Gorge Bridge, I drove through the beautiful rolling hills of West Virginia to Morgantown. You would never know, by driving I-77 before its junction with U.S. 19, that mountaintop removal is spreading like a cancer through the countryside not far away. After a 6 1/2 hour and 314 mile drive, I arrived at Touchstone at 3:30 p.m.