Last week, I went to Fort Wayne, Indiana, where my parents were from, for the first-ever family reunion of my father's family. I have one uncle who is still going strong, at the age of 89 – must be that cold weather! This was only my third trip to Fort Wayne, the second within the last 3 years. Fort Wayne is an interesting place, if only because it is so very conservative. I picked up a copy of the Fort Wayne News-Sentinel and was greeted with columns by Jonah Goldberg and Glenn Beck, among others. Now, I don't disagree with everything that conservatives espouse, but Goldberg and Beck really get under my skin. There is another paper, said to be more liberal, the Journal-Gazette, but I didn't have a chance to read that one.
Because Fort Wayne is an old city (founded in 1794, incorporated in 1840), there are many architecturally significant homes in neighborhoods scattered around the city. Along West Berry, close to downtown, there are many very nicely restored Victorian homes. Here is one of them: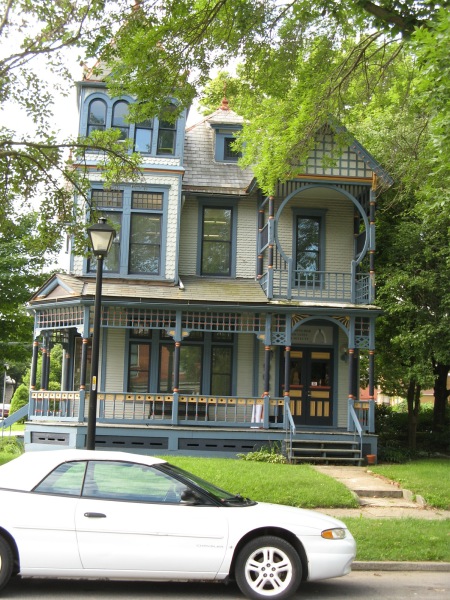 The Fort Wayne Museum of Art, which was unfortunately closed for construction, has had some interesting shows but other than Artlink and the Orchard Gallery, art in Fort Wayne is pretty thin. There is apparently a thriving underground art scene, from what I learned, but you have to really dig to find art in the area.
There is a really good used book store in town, Hyde Brothers. How many book stores have murals painted on the outside walls?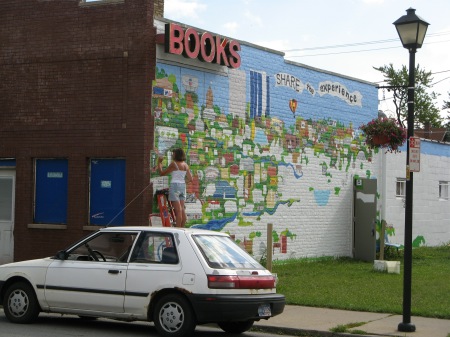 At Hyde Brothers, I bought a guide to the nature preserves owned and maintained by the ACRES Land Trust, which I found out about at Artlink. To give you an idea of how difficult it is to find out what is going on in Ft. Wayne, consider this: I saw the brochure for ACRES at Artlink and, after reading it, learned that a guidebook to their preserves was sold at their headquarters in Huntertown (10 miles north of Ft. Wayne) and at Hyde Brothers. A trip out to Huntertown proved fruitless, as I could not find the address and the town was crowded with folks getting ready for their annual Heritage Days Festival, which I had no idea was taking place. The streets were lined with people sitting in their lawn chairs waiting for the parade to begin and the houses were all decked out with American flags. No phone number or address was given for Hyde Brothers in the flyer, so I had to look in the phone book to find that. Once there, I asked for the guide and the clerk had to think about my request for a moment before showing me where it was, right on the counter by the cash register, hidden by other material. I was able to visit one of the preserves the morning that I left, but I will be sure to visit more of them on my next trip. It does take some sleuthing to find things in Fort Wayne! It must be that conservative, shut-mouth atmosphere that prevails in the area. "Shut-mouth" is a Hoosier-ism for playing one's cards close to one's vest.
One last story about Fort Wayne for this post: After traveling all day to reach Fort Wayne, I arrived around 9:30 p.m. My hotel was the Hyatt Place, adjacent to the Coldwater Plaza shopping center. Hotwire didn't provide very good directions – I should have gone to the Hyatt website for that, but I didn't. Anyway, I got off I-69 at Lima Rd. and headed west – wrong direction. I turned around and headed east and after awhile, having not seen the Hyatt, stopped at a BP gas station at Coldwater Road and W. Washington Center Blvd. to ask where the Hyatt might be. Now, understand that the Hyatt is about 300 yards southwest of this gas station. Of course I didn't know that at the time – the hotel is quite hidden. So I asked the young lady behind the counter if she knew where the Hyatt Place was. "Hyatt Place? Never heard of it," she replied. So I asked her if the street out front was E. Washington Center Blvd. or W. Washington Center Blvd. as the address of the Hyatt is 111 W. Washington Center Blvd. She didn't have a clue. But she did know that the north-south street was Coldwater Road. I guess one out of two is not too bad, huh? She said that she wasn't from Fort Wayne – that she lived in South Side. Fort Wayne takes up a goodly portion of Allen County and I assume that she drives to her job every day, so that was a lame excuse. So I turned to a local resident outside who said, "Oh, my, I don't know, but there is a hotel close by – let's go look." So we did, and lo and behold, there was the Hyatt.
There is no signage on W. Washington Center Blvd. to indicate that a hotel is hidden 300 yards off the street, either. Don't get me started on street signs in Fort Wayne….
Duh ….. no wonder Fort Wayne was dubbed the "dumbest town in all the land" by Men's Health. Despite my travails, I had a good time and I do plan to go back, but Fort Wayne certainly isn't the most tourist-friendly town that I've ever been to!