Strolling the River District
The next day, we had an ambitious agenda: visit Clayspace, where Colleen's son, Josh, has a studio, eat lunch at 12 Bones, the home cooking place where Obama got takeout, and take in the sculpture show at Reynolds Mountain Park, which was down on the French Broad River last year and where it should have been this year. The first stop was Clayspace, where I introduced myself to Josh and made him homesick, by telling him that I had met Tom Phelps' wife, Carol, and other tales of my brief visit to Floyd a few days prior. Josh is an amazing potter, incredibly accomplished for one so young. I loved his pots – they are bold, forceful, and quite appealing. So appealing, that I had to buy the one on the left in this picture: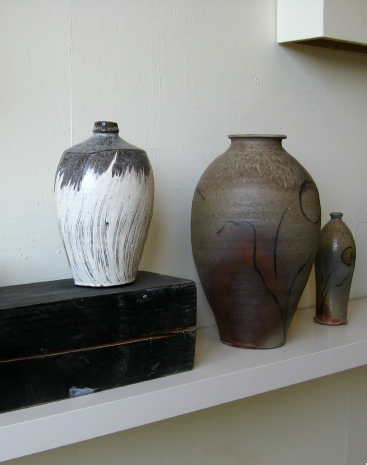 The one on the right may have been done by Josh, but if it wasn't, I'm sure someone will correct me! It was too big and heavy to risk picking up.
My tour guide's stomach was rumbling, so we ambled towards 12 Bones and dashed across the railroad tracks, ahead of an oncoming train! 12 Bones has some delicious food that is hard to select from, but I settled on a half-rack (6 bones), macaroni and cheese, baked beans, and a Scottish Brown Ale. Yum!!! I was so full that I couldn't even think of dessert, though the party at the next table came just for dessert and the pecan pie looked like it was to die for. Next time!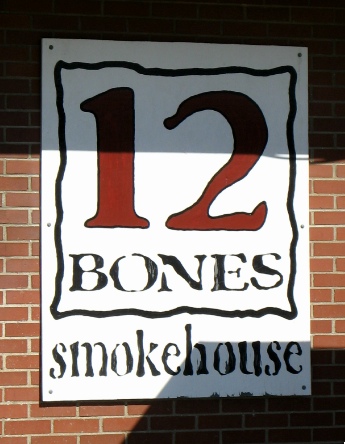 Then, it was on to Reynolds Mountain Park, where the annual sculpture show is located this year. Reynolds Mountain is a "new community" north of downtown Asheville, in the town of Woodfin. The sculptures are situated in an area that will one day be full of homes but is now a very large, sun-blasted, bare area not at all conducive to the display of the sculptures. But no one asked me where the show should have been set up. I liked some of the sculptures, but others just didn't do a single thing for me.
This piece by Robert Winkler was interesting. I'm not usually all that fond of finished wood, but I liked the way that the piece flowed. Appropriately enough, the title of the piece is "Roll Over". I don't think it would last long outside, but perhaps if it weathered while outside, it would become even more intriguing.
I loved the sculptural forms of Richard Conn. I've never seen his work before and I wasn't able to find any information about him on the Internet nor is he a member of the International Sculpture Center. I'm not sure what kind of finish he uses, but it looks as though he lets the steel rust and then polishes and waxes it with some substance. The finish is silky smooth and very sensuous. This one is called "True North":

The volumes of "Navigator", also by Conn, really stuck me. I can picture it nestled among the trees on my property in Floyd!! I'm sure it would cost as much as I paid for the property, though. Sigh ….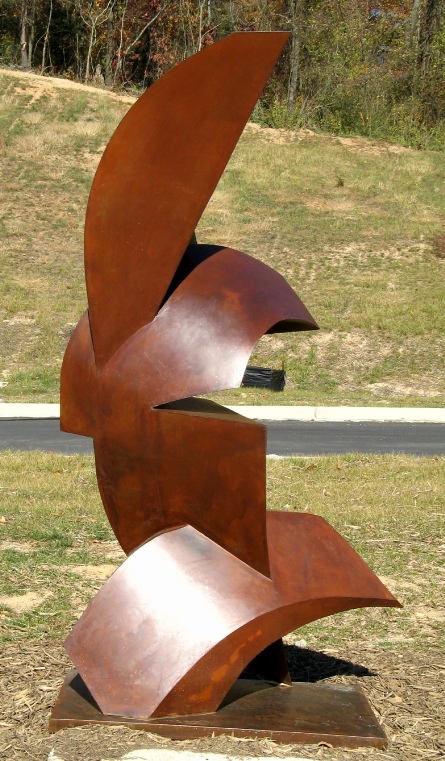 The last one in the show by Conn, entitled "Veneration", combines wood and steel, one of my favorite juxtapositions. The hard edges of steel set off against the organic textures of weathered wood are a wonderful contrast to me. I also love wood and stone together. I do have a suggestion for whomever is looking after this installation, though: go out and clean the bird droppings off the piece. They really don't add anything to the visual experience!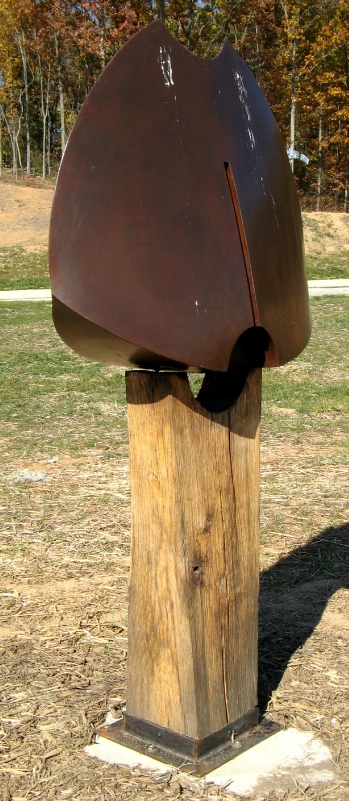 The last piece that really struck me was this playful piece, of joined wood, by Karen Ives. It is entitled "Joiners" and could be the starting point for a discussion about post-Bush America: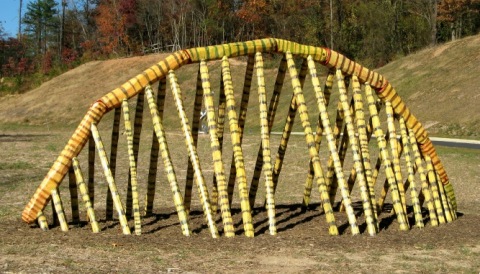 If it hadn't been so hot and the sculptures hadn't been so far apart, the show would have been more enjoyable. I still think it should have been where it was last year!