There are four different hickorys native to southwestern Virginia: bitternut, shagbark, mockernut, and pignut. Shagbark hickory is easy to identify because of the shaggy bark, but the others are a little bit more difficult. This photograph is very likely of a shagbark hickory (carya ovata), but there is a chance that it could also be pignut hickory (carya glabra). Both of these hickorys have 5 finely toothed, sharp-pointed, tapering leaflets while the mockernut has 7 to 9 leaflets, as does the bitternut. Again, I should have taken a photograph of the trunk of the tree – that would have helped in identifying this specimen. The fruits would also have nailed down the identification, but I would have needed binoculars to see them.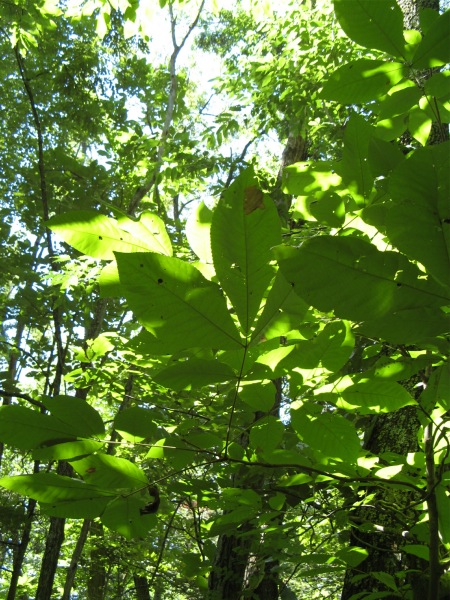 The nuts of the shagbark hickory are valuable food for many animals, including squirrels, chipmunks, black bears, and foxes. The nuts were also relished by the indigenous people of this area.
Hickory was historically very popular as a fuelwood and as stock for charcoal production but over-harvesting led to it being fairly uncommon on privately owned woodlots. The predominant uses for hickory are in furniture, flooring and in tool handles and athletic equipment.