Last fall, I posted a picture of a summer grape (vitus aestivalis) vine that wasn't all that big, but I knew that I had larger ones on the property. Here is one of them: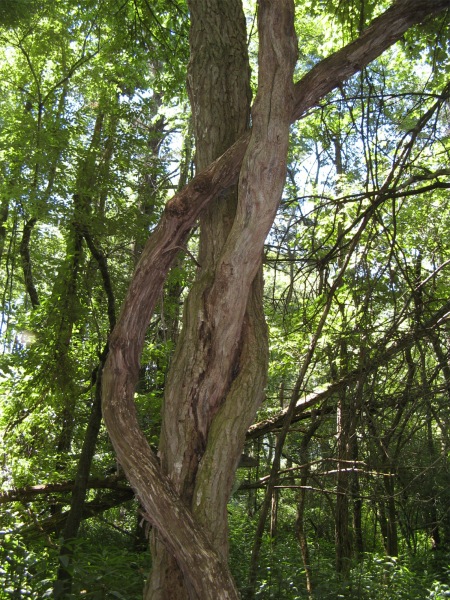 This one is climbing a black locust but it may be all over the canopy of an adjacent tree by the time it rises to that elevation. I didn't make notes about that. The vine is about 4″ in diameter, but I have an even larger one than this one on the property. Summer grape fruits are important wildlife food, so this vine stays, regardless. Last fall, I copied this statement from the West Virginia University Extension website:
"The ripe grapes are a favorite food of raccoon, rabbit, red squirrel, opossum, foxes, ruffed grouse, wild turkey, cardinal, mockingbird, robin, cedar waxwing, woodpeckers, mourning dove and other songbirds. Old dried grapes are especially valuable in late winter. The dense foliage of 'grape tangles' and in tree tops are very valuable for cover and nest sites for many animals and birds."
The grape vines do result in some damage to the trees that support them, but the tradeoff, in terms of wildlife food and habitat, is important enough that I am going to leave them alone. I've lost several vines due to driveway construction and the paths that the Bull Hog made through my property and I don't want to lose any more.