Little by little, I am identifying the plants that are on my property. I took lots and lots of pictures, but when I got home and downloaded them, I found that I didn't have a very good system for taking pictures. I often just took pictures of the leaves, instead of also taking pictures of the bark of the shrub or tree, which helps distinguish the various kinds of hickory tree, for example. Many times, too, the picture was out of focus, which limited its usability. Oh well. There is always the next trip!
I took pictures of the spicebush (lindera benzoin) back in April, when it was blooming,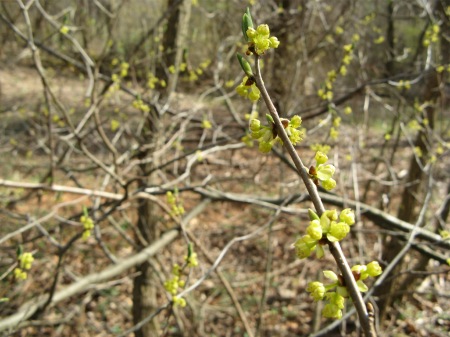 and now, in the early summer, it has unripe berries on it. In the fall, the berries will turn bright red – good food for birds. The leaves are browsed by deer and the plant is also the larval food of the spicebush swallowtail butterfly (papilo troilus). I saw quite a number of swallowtail butterflies in my travels, but didn't see them in the woods – they were out in sunny places, feeding on nectaring plants.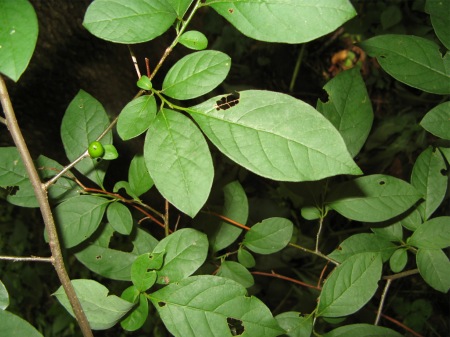 The spicebush berries can be used as a substitute for allspice and are often added to apple dishes for a bit of zest since they ripen at the same time. The bark of the spicebush, prepared as a decoction, was used by the early settlers to activate the immune system and expel toxins by making the imbiber sweat heavily. The indigenous peoples used the plant for treating coughs and colds and compresses made from the leaf, bark or berries was used for treating rashes.