When I was in Floyd last summer for the first time, I was astonished at how lush and green the woods were. At the time, I had no idea how much of that lushness had been contributed by an invasive exotic vine, Oriental Bittersweet (celastrus orbiculatus), which was identified for me by Jason Rutledge a year ago. This picture, taken by Chris Evans, is a fair picture of the tangles of vines that I found on this trip.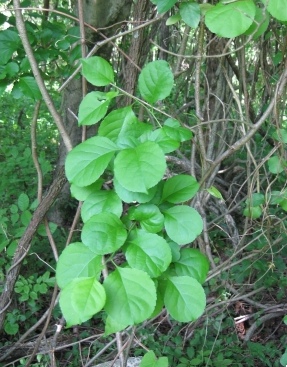 I brought along a pair of Felco 23 loppers and a Felco 610 pruning saw and cut, over a period of 5 days, about 1,000 vines. Some of the vines were 3.5″ in diameter and had to be sawn. I had numerous instances where I found a tangle of vines such as is shown in this picture. The picture below shows a very small vine that I missed at first but cut on my last morning in Floyd.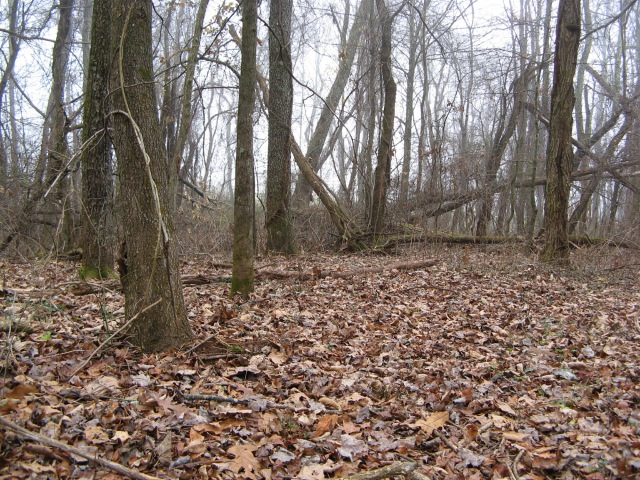 You can see it twining around another vine on the tree in the foreground – it is only about .75″ in diameter, but given time, would grow much bigger. I gave no quarter to my enemy – I cut it and yanked it out by the roots, something that I didn't do for 99% of the rest of the vines. To do so would have meant weeks of labor. I am satisfied that, if nothing else, I have set the oriental bittersweet back a good ways – it will take several years to make its presence known in a big way and by then, I'll be living on the property and will be able to aggressively deal with it. In the meantime, the trees will have been given a reprieve from the smothering vines and will be able to flourish for the first time in many years.